We believe in a committed and professional teamwork that minds the environment and generates strong, lasting, and trusting relationships with our customers and suppliers.
We grow our own fruit and count with state-of-the-art infrastructure and technology that allows us to fulfill our commitments and keep abreast of global market trends.
INFRASTRUCTURE
At Tuniche Fruits we pack our own fruit and count with state-of-the-art infrastructure that allows us to fulfill our commitments and reach the final consumer always with the same quality in fruit: maximum flavor, freshness, and appearance.
| | |
| --- | --- |
| | Over 400 hectares of our own fields for production. |
| | Fruit packing station with annual operating capacity of approximately 2,000,000 boxes. |
| | Three processing lines for stone fruits and cherries. |
| | Pre-cooling facilities and cold storage to ensure an optimum cold chain. |
| | |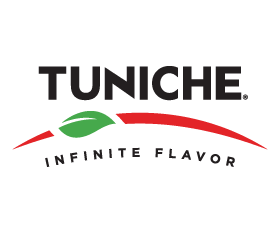 The Álamos family has been extensively involved with farming activities in the Chilean countryside for several generations. In the late 50's, they settled in the locality of Tuniche, near the city of Rancagua.
Víctor M. Álamos, founder of Tuniche, is renowned for his tireless work on genetic improvement in both corn seeds and fruit trees. He is also well-known as one of the forefathers in rootstock selection for cherries and apple varieties. He has been producing fresh fruit orchards since the decade of the 70's, starting out with apples, and then following with nectarines and cherries.
His son Víctor C. Álamos, with a vast experience in agribusiness operations, continued his father's legacy, and in 2001 he founded Tuniche Fruits, thus expanding the family business to fruit processing, logistics, and marketing. His main focus has been to stay in close contact and receive feedback from the elite fruit end consumers from the main international markets, understanding their tastes and needs, and consistently delivering to them the best flavored fresh fruit from the Tuniches' farms.
In 2001, during its first year of operations, Tuniche Fruits successfully exported 50,000 boxes of nectarines to the United States, where the customers were positively amazed with the consistency and high quality of the fruit they received. Tuniche Fruits made the strategic decision to specialize in the production, processing, marketing, and logistics of stone fruits (plums, nectarines, peaches, and cherries), aiming to change the perception of the costumer in the northern hemisphere regarding the flavor and juiciness of the off-season's stone fruits Produced in Chile.
Tuniche Fruits embarked on a long journey based on the research, development, and testing new varieties, field production, and post-harvest ripening techniques. All of this in order to maintain the natural properties of the fruit until its arrival to the end consumer. Every season several new varieties are tested and some of them are carefully selected and planted in the Tuniche test plots for further evaluation.
The business grew year after year, with exports reaching over 1,000,000 boxes in 2007, and expanding sales to Europe and South America. This growth made it necessary to update the fruits' selection, packing and cold storage facilities in 2001 and 2007; where new equipment was installed with the most advanced technology to increase its production capacity, maintaining the high quality of the fruit, as well as food safety and regulatory standards.
In 2008, Víctor's younger brother, Matías Álamos joined the company and is currently CEO. Matías' passion for excellence and innovation has allowed for the permanent and solid growth of Tuniche's business. Over the past few years, more than 200 hectares have been planted with new varieties, continuously adding new products with better flavor and conditions to reach the end consumer. Our fruit facilities have been constantly updated with the most advanced technology, and over 40 elite supermarket chains enjoy the 2,000,000 boxes of fruit exported by Tuniche worldwide.
In 16 years, Tuniche Fruits has built a wide network of contacts, alliances, and customers throughout North America, Western and Eastern Europe, the Far East, and South America. The company is widely recognized for being a stone-fruit and cherry specialist and for its working style where innovation, consistency, and integrity are paramount.
The Tuniche Fruits' family is very proud of its over 50 employees who work on a permanent basis and all of its temporary staff, who are not only very committed to understanding the needs of our customers, but are also highly motivated to continue servicing them the Tuniche way.